Middle Grade Readers Book Club
Ages 8-12
MARCH 31, 2023
Join us from 5:30-7:00pm Friday, March 31st for book club!  Your ticket includes TWO books!! A paperback AND graphic novel of this month's book, Jacky Ha-Ha by James Patterson.  You choose which version you want to read, OR read both!

We'll spend time chatting about the similarities and differences of our reading experiences, and discuss what we liked and didn't enjoy about the story! We'll also snack, craft, and play!!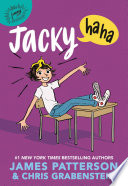 In this #1 New York Times bestselling novel, get to know Jacky Ha-Ha, a funny class clown who loves to make people laugh—even when everything else in her life feels anything but silly.

With her irresistible urge to tell a joke in every situation—even when she really, really shouldn't—twelve-year-old Jacky Ha-Ha loves to make people laugh. And cracking wise helps distract her from thinking about not-so-funny things in her life, like her mom serving in a dangerous, faraway war, and a dad who's hardly ever home.
This is a drop-off event after store hours.  Our middle-grade readers will be provided a snack - PLEASE let me know if your reader has any allergies, or diet considerations. 
Parents agree to arrange pickup no later than 7:05 pm, with a strict $1 per minute late fee per child.  Bookish advises arriving at the store at 6:50 pm.  The front door will be locked during our book club and there will be a 10/1 child-to-adult ratio.  We are an inclusive and uplifting store and will call or text parents for immediate pickup if any behavior is out of line with our store's ethics and mission.
Purchase your ticket by searching 
'Middle Grade Book Club' in the website search box, emailing, or stopping by the shop!